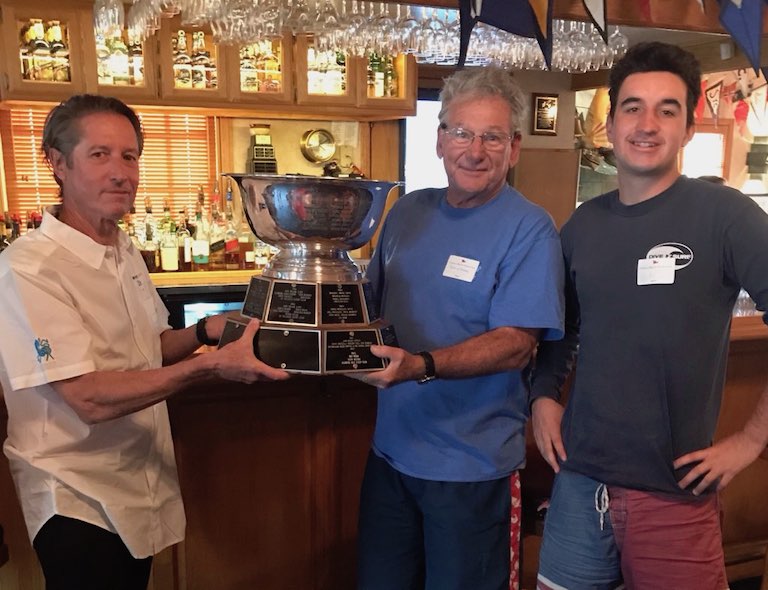 The Fall Regatta in San Pedro last weekend was lucky to get a friendly turnout, and some great sailing conditions on the Saturday. Straightforward 2x around with the luxury of leeward gates made sailing fun without the traffic jams and elevated pulses.

Sunday did not live up to its Hurricane Gulch reputation and boats struggled semi drifting in two 1x around races when the consensus was to call it a day.
From NorCal. Randy Smith, Robin Sodaro, and Lyn Hines chased Mike Burch around who just put up a "picket fence" of 1st places. Joining the chase was San Diego Don Whelan, and the usual San Pedro local suspects. It was nice to see the camaraderie in some crew swapping when a few folks pulled out with back injuries.
Sail

Boat

Skipper

1
2
3
4
5
6

Total

Pos

472

Jade

Mike Burch

1

1

1

1

2

[3]

6

1

Mike Burch

543

Fast Break

Randy Smith

2

[4]

2

4

1

2

11

2

468

Miss Behavin'

Damon Guizot

4

[5]

5

5

3

1

18T

3

Tom Priest

541

Get a Grip

Lyn Hines

5

2

3

2

[7]

6

18T

4

Odile Hines

572

PAW

Park Densmore

6

[8]

6

3

6

7

28T

5

504

No Name

Bob Burns

[9]

7

7

6

4

4

28T

6

Richie Burns

542

Ol' Skool

Eric Conn

8

9

4

[12/DNF]

5

5

31

7

467

Mystery

Brad Bergeron

7

3

8

7

[12/DNS]

12/DNS

37

8

466

Bushwhacker III

Donald Whelan

3

6

[12/DNS]

12/DNS

12/DNF

8

41

9

508

AXON

Doug Baird

[12/DNS]

12/DNS

12/DNS

12/DNS

12/DNS

12/DNS

60T

10

570

Carbon offset

Chris Vilicich

[12/DNS]

12/DNS

12/DNS

12/DNS

12/DNS

12/DNS

60T

10